Profile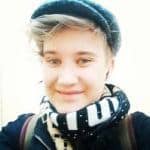 Hannah Little
My CV
Education:

Grangefield School, Stockton-on-Tees (2000-2005), Bede College, Billingham (2005-2007), University of York (2007-2010), University of Edinburgh (2010-2011), Vrije Universiteit Brussel (Free University of Brussels) (2012-2016)

Qualifications:

A-Levels: Maths, Eng. Lang., DT, Film Studeis, BA (Hons) English Language and Linguistics, MSc Evolution of Language and Cognition, PhD in Science

Work History:

After I finished my MSc, I worked for a while at Newcastle College in science outreach and communication working with young people, I then went on to do a PhD at the VUB in Brussels, I worked as a research at the Max Planck Institute for Psycholiguistics in the Netherlands for a year and now I'm a lecturer at the University of the West of England in Bristol. I have also previously worked as a paper girl, a waitress in Morrison's cafe and also a receptionist in a hotel.
About Me:

I'm a lecturer at the University of the West of England who works on science communication and language evolution.

Read more

I'm a lecturer at the University of the West of England, but I'm originally from the North East of England. I have two main academic interests: the evolution of language and science communication. For my research in language evolution, I use experimental methods to investigate how cultural transmission affects the emergence of structure in language. In science communication, I specialise in teach on podcasts, online video, citizen science and other online content. I also teach on science and comedy, and sometimes even does some stand-up myself!

As well as communicating about communication, I am interested in promoting public engagement with digital rights and communicating about the problems that occur when policy to protect civil liberties does not keep up with the growth of technology.

I also write for Babel, a magazine aimed at non-specialist readers with an interest in linguistic and language-related issues.

My Work:

I am a lecturer, so my primary job is teaching, but I also do some research on science communication and also on the evolution of structure in human speech.

Read more

I teach science communication at foundation, undergraduate and postgraduate levels, specifically focussing on online engagement and digital projects. I teach lectures on podcasts, online video, citizen science and other online content and on science and comedy.

I also do research on science communication and language evolution. At the minute I'm working on a project looking at using ESCAPE ROOMS as a way of teaching people about science. I'm also working on a project investigating the impact of the christmas lectures. I'm really interested in cultural evolution and how information is affected when it gets passed from one person to another.

What I'd do with the prize money:

I'd start a science/research themed comedy night (Bright Club) in Bristol.
My Interview

How would you describe yourself in 3 words?

Short, Northern, Enthusiastic

What did you want to be after you left school?

A set & prop designer, but A-Level English Language made me want to be a linguist.

Were you ever in trouble at school?

Ohhhh yes.

Who is your favourite singer or band?

Ben Folds

What's your favourite food?

Halloumi cheese

If you had 3 wishes for yourself what would they be? - be honest!

I hope to progress human knowledge, even in a tiny way, i hope I never lose sight of where I came from and I hope to inspire my students to great things, no matter where they come from.

Tell us a joke.

I didn't used to believe in synaesthesia, but then I saw scents.
---
---
---