Profile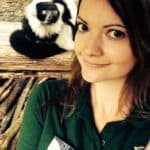 Suzanne Harvey
My CV
Education

Somervale School 1997-2003, University of St. Andrews 2003-2007, Exeter University 2007-2008, University College London 2009-2014

Qualifications

MA(Hons) Psychology, MSc Animal Behaviour, PhD Biological Anthropology

Work History

I have done everything from waitressing, shop work, admin jobs and handing out leaflets in the street to fund my degrees! Since graduating I have worked for UCL Museums and ZSL London Zoo.

Current Job

Freelance science communicator & primatologist

Employer

While writing up research from my fieldwork, I am working as a freelance science communicator, talking about primatology and producing science events:
My Work:

My research is on the evolution of language, which often involves following baboons around the forest with a microphone…

Read more

By studying the meaning of primate vocalisations, we hope to understand how humans evolved to have modern language. Humans are a type of primate, and there are over 600 species of primate, but no others can communicate like we can. Why is this?

I studied baboons at Gashaka Gumti National Park in Nigeria, which is an amazing place to live and work. This is the river next to our camp, which we share with all the monkeys in the area:

We are studying the sounds these baboons make, and the behaviour that is linked to these vocalisations. This way we can find out whether there is meaning attached to baboon vocalisations, in a basic form of how we understand words.

This can tell us a lot about how intelligent baboons are – if they understand the meaning of sounds, they could lie or trick others using this skill, just like humans! Chimps have been shown to use different sounds depending on who is nearby, in the same way that we might say different things around friends than we would say around our parents.

All of our baboons have names and can be recognised, so that we know which ones are friends and which ones tend to fight when they're together. Here is Eggi, a baby at about 2 weeks old. They have a black coat and white face until around 6 months, when they start to change colour:

This research was part of my PhD at University College London. Having finished the project, I am now writing and giving talks about primate communication! https://showofftalentfactory.wordpress.com/portfolio/suzanne-harvey/

My Typical Day:

Up early, follow baboons for 6 hours, take a nap, office work, then relax!

Read more

On a typical field day, I get up at 4.50am and turn on the power before the rest of camp wakes up at 5. We are very lucky to have solar power, and need it at this time in the morning as it's still dark! We eat porridge for energy, and leave camp at sunrise which is usually before 6.

From 6-12 we follow the baboons, who are used to having humans nearby and come very close to us. The forest can be difficult to work in, and sometimes climbing is involved as well as trekking! 

Each day, we follow a different baboon, so each behaves differently and some keep us busier than others. I work with a volunteer who makes sound recordings of all the vocalisations the baboons make, while I make notes on their behaviour. We also work with local field assistants to avoid getting lost in the forest. This is me, Georgia and Ibrahim at work:

When we return to camp at midday, it's nap time! Afternoons are usually spent in the office uploading the day's data. We have a small library of books and DVDs for the evenings, and can get radio signal in camp. There is no internet and no mobile phone signal, so it's very different from being at home. Usually, we go to bed when it gets dark at around 8.30 ready to be up early the next day. It sounds tough, but only takes a couple of weeks to get used to!

On a day off, we can travel by motorbike through the forest to the nearest village, where we can buy fresh fruit and coke, which makes a nice treat compared to the diet of rice and beans! We can also phone friends and family from town. Three hours on the back of a motorbike can be quite dusty, though…
My Interview

My favourite CHRISTMAS LECTURE memory is:

Richards Dawkins' pendulum ball experiment - it makes me nervous every time, well worth watching on the Ri channel if you haven't seen it!

How does technology threaten your privacy?

Like many people, I store or back up all of my work in the cloud. It's great to have a team of people all working on the same documents online, but this has moved a lot of private data onto servers owned by other people.

How would you describe yourself in 3 words?

Professional Monkey Watcher

What or who inspired you to follow your career?

Reading Frans de Waal's book 'The Ape and the Sushi Master' was the first time I realised how fascinating a career in primatology could be

What did you want to be after you left school?

A psychologist. Eventually I decided to look at non human behaviour instead…

Were you ever in trouble at school?

Not a lot, I was the quiet type!

What is the most fun thing you've done?

Having a birthday party in the jungle while away for fieldwork, complete with a sound system on the beach and dancing in the river :)

Tell us a joke.

What do you call an exploding monkey? A baBOOM!
My profile link:
https://ias.im/u.31484
---
---
---