Profile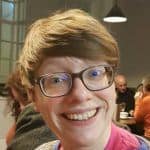 Sarah Knight
My CV
Education

University of Cambridge, 2004-13

Qualifications

BA (Music); MPhil (Musicology & Music Psychology); PhD (Music & Speech Psychology)

Work History

University of Nottingham, 2013-16; Queen Mary University of London, 2016-17; Royal Holloway/UCL, 2017-18

Current Job

Postdoctoral Research Associate

Employer

Department of Psychology, University of York
About Me:

I love all sorts of games, quizzes and puzzles! I also like playing and listening to music, and dancing. And of course I love science — it's a bit like a puzzle too!

Read more

I used to want to be a musician, and I spent most of my time at school practicing the clarinet and piano. During my music degree at university, I took a course on music psychology, and I was hooked! I realised that I loved thinking about how we hear sound, and how we use it to communicate with each other. So although musician and psychologist are very different jobs, I don't feel as though I've left my past behind me — I still get to spend lots of time thinking about sound!

In my spare time, I play tiddlywinks in national tournaments, do crosswords and go Molly dancing (which is a type of traditional English folk dancing, a bit like Morris dancing!).

My Work:

My job is to find out why we get distracted by background noise when we're trying to listen to another person speaking. I'm also trying to find out what kinds of background noises are particularly distracting. Maybe you find it easier to listen to your friends talking when there are birds singing rather than other people chatting! Understanding more about how we deal with background noise will help scientists to do things like make better hearing aids, or design buildings in which it's easier to hear what's going on.

Read more

My PhD project was about politicians and the way they talk when they're making speeches. I was particularly interested in how they use rhythm, since lots of people have suggested that politicians talk with a stronger rhythm or "beat" when making speeches. I wanted to know if this was true, and if it was, then why? Does rhythm make people pay more attention, or maybe feel more connected to the person speaking?

Since finishing my PhD I've worked on several different projects about communication. One was about music therapy, and how it might help us to understand and treat certain mental health disorders. Another project was about the judgements we make about people from their voices: do we use the sound of people's voices to try to work out if they're trustworthy or friendly? But most of my work since my PhD has been about about listening in noisy environments, like a busy restaurant or classroom. I want to know why it's particularly hard for some people (like older people) to understand speech when there's background noise, and why some types of background noise are more distracting than others.

My studies usually involve creating sound recordings for people to listen to, and then recording their responses to analyse later. For example, I might record somebody talking, then mix the speech with a recording of background noise to make it harder to hear. I'll then play people these "noisy" recordings and see how much of the speech they could understand, and compare this for different types of background noise!

My Typical Day:

The great thing about my job is that there is no typical day! I might be reading, writing, analysing, collecting data, teaching or talking to the public.

Read more

What I do at work depends on where I am with a project. If it's early days, I'll spend lots of time reading relevant books and articles, talking to the other scientists I work with, and drafting ideas for experiments. Then I'll need to do lots of technical work to get an experiment set up, including recording sounds for participants to listen to, and setting up computers to record their responses. During the the middle of a project, I'll probably be working with the participants who take part in my experiments and collecting data from them. I might also be starting to analyse that data. Towards the end of a project, I'll be doing lots of data analysis, and starting to write up my results.

While all of this is going on, I'll also be supervising students, and every so often I take part in events with members of the public (like you!) to explain about our research!
My Interview

My favourite CHRISTMAS LECTURE memory is:

I always watched the Christmas Lectures when I was young! I remember being particularly excited about a lecture about volcanoes, because I was fascinated by explosions and lava!

How does technology threaten your privacy?

So much information is being gathered about us all the time, from what we buy online to what political party we support. This information can be used to manipulate us and influence our behaviour in all sorts of ways. These can be relatively innocent things (like persuading us to buy things we don't need!) but also much more important things (like voting in elections).

How would you describe yourself in 3 words?

Enthusiastic and smiley :-)

What or who inspired you to follow your career?

Too many to choose from! I've been lucky enough to have amazing lecturers, friends and colleagues, all of whom have inspired me in different ways.

What did you want to be after you left school?

A professional clarinettist!

Were you ever in trouble at school?

A few times. I liked making people laugh, so I'd sometimes clown around in lessons instead of paying attention.

Who is your favourite singer or band?

That's a tough one. I like a lot of quite small bands that not many people will have heard of! But I think my favourite mainstream band would have to be The Beatles.

What is the most fun thing you've done?

Hard to choose! I recently went snowboarding for the first time and survived. I was terrified but it was still fun!

Tell us a joke.

Which of King Arthur's knights invented the Round Table? Sir Cumference!
My profile link:
https://ias.im/u.163485
---
---
---