Profile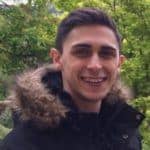 Ricci Hannah
My CV
Education

City of London School (GCSEs and A levels), Leeds University (BSc in Sports Science), University of Brighton (MSc Sports Science), Nottingham Trent University (PhD Neuromuscular function and physiology)

Qualifications

Bacherlor's and Master's degrees and a doctorate

Work History

I've worked in health and fitness as a gym instructor, life guard and sports coach, I've worked in a pub, but most of my adult life has been spent in academia studying or doing research

Current Job

Employer

University College London Institute of Neurology
About Me:

From brawn to brains: I'm a former sport & exercise scientist now working in neuroscience.

Read more

I'm a neuroscientist at UCL interested in human movement and the central nervous system that produces it. Most of us think little of typing out a text message or picking up a cup of hot chocolate and drinking from it, and yet how the brain produces these seemingly simple movements is still a mystery.

(As a bit of an aside, one chap called Daniel Wolpert has argued that the whole reason we have brains is to produce movement!)

In my work I use non-invasive brain stimulation methods to probe the function of the motor system. I'm also interested in how and whether these stimulation techniques, which can sometimes have longer lasting effects on brain function, might be used alongside traditional rehabilitation after brain injury or disease.

Read more

My typical day involves a mixture of: talking (often about research ideas, my data, other peoples research or data); looking at data and crunching numbers; writing up research findings to submit to journals for publication; talking to and testing research participants (who kindly agree to perform our little tasks and have their brains stimulated at the same time!). This is all fuelled by lots of coffee and cake.
My Interview

My favourite CHRISTMAS LECTURE memory is:

Being involved in one!

How does technology threaten your privacy?

It's too scary to think about

How would you describe yourself in 3 words?

Try my best

What or who inspired you to follow your career?

I almost left academia, but the chance to work with my current boss - a world expert and all-round lovely chap - inspired me to stick at it.

What did you want to be after you left school?

I wanted to work in sport as a sports scientist or psychologist

Were you ever in trouble at school?

I went through a tough time and was almost expelled before my GCSEs but managed to turn things around with the support of some fantastic teachers.

Who is your favourite singer or band?

Bieber

What is the most fun thing you've done?

Cycled from London to Paris in 24h (OK it wasn't all fun - there were tantrums and sore backsides, but it was worth it in the end)

Tell us a joke.

I recently developed a phobia of lifts ... I'm taking steps to avoid them
My profile link:
https://ias.im/u.163484
---
---
---