Profile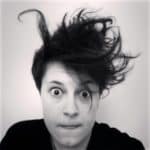 Nadine Lavan
My CV
Education:

University of Cologne, Germany (BA, 2008-2011); University College London, UK (MRes, 2011-2012); Royal Holloway, University of London, UK (PhD, 2013-2017)

Qualifications:

Work History:

University College London (research assistant in 2012-2013 and post-doc in 2016), Brunel University (post-doc in 2017), Royal Holloway (post-doc from 2018!)

Current Job:
About Me:

I'm a researcher at Royal Holloway, University of London.

Read more

Our voices convey a lot of information about us as a speaker. When we listen to someone, we have a rough idea of how old this person is, possibly where they are from, whether they are male or female or whether they are happy or sad. If we know the person, we might even be able to recognise them based on their voice! I'm want to know more about how we do this.

My Typical Day:

Many cups of tea and some work, i.e. thinking, coding, trying to make sense of my data, writing up results.

Read more

There's really no such thing as a typical day! Every day differs from the other – what I do on a certain day mostly depends on what stage the particular experiment I am working on is at.

For example, when I am still in the planning phase of an experiment, my days will include a lot of reading and doodling, to try to refine my research question, come up with a design for a study (what will my participants actually have to do?) and try to figure out what I could expect to find (what are my predictions?).

Once the thinking and doodling is done, I'll spend time trying to set up the study, this will include a lot of work trying to get the materials for the study ready: we need stimuli (for my work, mostly recordings of voices) and we need a way of presenting people with these stimuli. So, I might find myself asking my colleagues to record sounds for me. I'll then also need to code up a programme to make a computer play lots sounds and record data from my participants.

Then it's time to test people, to actually collect the data. This will involve booking in participants and inviting them to the testing room to then go through the experimental tasks with them.

After testing, I need to analyse my data, look at the results and make sense of them. That can be quite messy! Usually you should have a good idea of what you expect to see at the end of data collection, but, of course, things don't always work out perfectly (in fact, they very rarely do). So, on days like that I'm back to reading a lot, talking to my boss about what the data could mean and trying to come up with a sensible interpretation of our data that fits with what other people have found. This is a really exciting stage of every project as you are getting glimpses into truly new stuff!

Once we've made sense of the data, we need to write up our results for publication. Writing is usually aided by many many cups of tea and walks to the shop to buy chocolate!
My Interview

How would you describe yourself in 3 words?

A cycling scientist.

What did you want to be after you left school?

I had no idea what I wanted to be. I always liked voices and sounds but it took me a while that this could be something I could be studying and turn into my job!

Were you ever in trouble at school?

A couple of times I got into trouble. Most times I was good (or just wasn't caught!).

Who is your favourite singer or band?

Currently it's a bit of a wild mix including Adele, LCD Soundsystem and ABBA.
---
---
---