Profile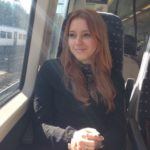 Eloise Ainger
My CV
Education

I attended University of Hertfordshire in 2014-2015 and University of Derby 2010-2013. I then did my postgrad certificate at University of Reading 2016-2017.

Qualifications

MSc Research in Clinical Psychology, BSc (Hons) in Psychology and a postgrad certificate in Child and Young People Evidence-based Practice

Work History

I previously worked at a children and young people's mental health service.

Current Job

Employer

Centre for Research in Autism and Education, UCL
About Me:

I am very early in my career and still very much learning! I really love working with and being around people.

My Typical Day:

I work on a big project using a robot to help autistic children with social skills and recognising emotions, so I go into schools and get to work with the children, and then will spend lots of time looking at all the information we found about whether the games they played helped the children learn and if they enjoyed playing with Zeno. We use this help to design more useful and helpful activities for the robot and children to play together!

Read more

This varies day to day, on the more exciting days I get to work with a robot named Zeno to help teach emotion recognition skills to autistic children. Other days I will be speaking to teachers about their experiences of teaching which all helps us to plan fun and effective emotion activities for the robot learn and play with the children. Once all this information is collected, the other aspect of the job is back in the office inputting the data into spreadsheets and writing up what we found.

All of the information we gain also helps us to think about and design new activities for the robot to learn and play with the children to help teach them how to recognize emotions, something that some autistic people find more difficult. So everyday is different which means I never get bored!
My Interview

My favourite CHRISTMAS LECTURE memory is:

It has to be Zeno the robot appearing this year!

How does technology threaten your privacy?

Everything that we put online is stored somewhere, even when we delete it. This means it can potentially be accessed by other people too.

How would you describe yourself in 3 words?

A bit clumsy

What or who inspired you to follow your career?

My psychology teacher who was so passionate about her subject, and my wonderful work supervisor

What did you want to be after you left school?

I wanted to run my own hotel in Spain!

Were you ever in trouble at school?

I was sometimes told I talked too much, but I was never really in trouble at school!

Who is your favourite singer or band?

I really love Andre Day

What is the most fun thing you've done?

Indoor skydiving - I would be too scared to do the real thing but it was a blast!

Tell us a joke.

The price of Velcro has gone up. What a rip off.
My profile link:
https://ias.im/u.163568
---
---
---