Profile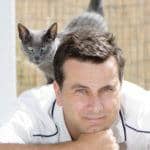 Daniel Mills
My CV
Education:

St Edmunds College Ware (school), University of Bristol (vet degree) then De Montfort University (PhD)

Qualifications:

BVSc PhD CBiol FRSB FHEA CCAB Dip ECAWBM(BM) FRCVS, European & RCVS Recognised Specialist in Veterinary Behavioural Medicine – my colleagues tease me I have more letters after my name than in it!

Work History:

worked for the PDSA a charity giving free veterinary care to those who can't afford it, then moved into private practice, which included the vet work for Guide Dogs. Moved to De Montfort from veterinary practice to begin in academia, then became part of the University of Lincoln when it was founded and been here ever since. Wonderful place!

Current Job:

Professor of Veterinary Behavioural Medicine
About Me:

I am a vet as well as researcher. I worked in practice for a few years before moving into academia so I could pursue my interests in animal behaviour and the human animal bond.

Read more

I have a had a longstanding interest in animal behaviour and welfare, and initially worked as a vet for an animal charity before moving into private practice. I then had the opportunity to Move to Lincolnshire where I started my research career. My PhD was in horse behaviour and welfare, with a focus on developing humane methods to improve management. My work at the University consists for teaching, research and clinical work, helping people with their problem pets.  I became Europe's first professor on veterinary behavioural medicine and recently was honoured to received the highest recognition from the veterinary profession  (Fellowship of the Royal College of Veterinary Surgeons).  You can find out more about me from my Wikipedia entry: https://en.wikipedia.org/wiki/Daniel_Mills_(biologist)

Read more

My work is split across three areas:

Research- my research focuses largely on studying what makes us all unique individuals when it comes to our behaviour. This means I do a lot of work on studying our emotional interpretation of the world, but my focus is on non-human animals rather than humans. I am particularly interested in how animals communicate their emotions and this includes both the visual and auditory signals  as well as chemical signals that they use. It is well known there is a smell of fear, but did you know there is also a unique "smell" of comfort for many animals? My other main area of research interest is the value that companion animals bring to society and to human well-being, I am particularly interested in how dogs can help families with an autistic child.
Teaching – I enjoy teaching students at all levels and here at Lincoln we not only have degrees in animal behaviour and welfare, but also a specialist Masters level programme to develop professionals who want to work as an animal behaviourist helping owners with their pets. I also lecture extensively to both professional groups like vets and also owners and dog trainers.
Consultancy. I also work with a range of companies to help them develop products that improve animal welfare and the human animal bond. For example I developed the idea of a mirror in the stable of horses to help prevent certain forms of stress as well as new ways to reassure animals with certain chemicals in the environment

My Typical Day:

One of the joys of my job is that there is no such thing as a typical day. Every day is different and so interesting.

Read more

One of the few constants to a typical day, is that I get up early and make my wife a coffee and myself a cup of tea. After I get into work any might be happening- tutorials with research students, clients in the clinic, teaching students or going to meetings.

What I'd do with the prize money:

I didn't know there was any prize money, so i have no idea. I tend to live in the moment.
My Interview

How would you describe yourself in 3 words?

Busy, Optimistic, Passionate

What did you want to be after you left school?

I went to Vet School so it looked like I was going to be a vet in practice

Were you ever in trouble at school?

Yes… will say no more other than we learn from our mistakes and should learn to forgive others for theirs. No one's perfect

Who is your favourite singer or band?

The Cure, Nick Cave and Pink Floyd have to be up there

Tell us a joke.

Man goes into a bar with an amphibian on his shoulder and orders a drink for himself and tiny, his friend on his shoulder. The barman asks why he's called tiny and the man says, because he's my newt (minute – might need to read it out loud to get it)
---
---
---