Profile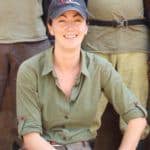 Cat Hobaiter
My CV
Qualifications:

Current Job:

Lecturer in the School of Psychology and Neuroscience at the University of St Andrews
About Me:

I'm a primatologist for the University of St Andrews, working on communication and cognition in wild apes. If I'm not in the forest or at work you can find me climbing something or pottering in a shed with a cuppa.

Read more

My undergrad was in Biological sciences at the University of Edinburgh. I took a Psychology class early on and came across the idea that evolution had shaped not only our bodies but also our minds – that had me hooked!

After graduating I went out to do fieldwork for the first time – four months studying forest baboon ecology. It was one of those wild shot-in-the-dark projects, at the time it wasn't even clear that there were forest living baboons in Budongo – it took me three months before I saw more than footprints. But I loved it – for me fieldwork is the perfect combination of science, problem solving, and outdoor fun. From a research perspective, I believe that to understand the evolution of behaviour we have to investigate it under the natural conditions that require its full expression.

I've been working and living in the field for over 13-years now and it's still my favourite office. There's always something new to find out about, and being able to slowly see the patterns in the behaviour emerge over the years is immensely satisfying. I've been mostly based with the chimpanzee groups at the Budongo Conservation Field Station in Uganda, but I've been lucky enough to work with several other sites and ape species – including the wonderful stone-tool using Bossou chimpanzees, and the mountain gorillas in Bwindi.

Read more

My main focus is communication and cognition in wild apes, and at the moment we're doing two things. (1) We're looking across more groups and species of apes. Most of our data so far comes from one or two groups of chimps and bonobos, but in terms of understanding the full potential of ape communication this is like only studying human language in one or two small towns. We need to compare more sites to be able to ask questions like: do chimpanzees have gestural 'accents' or 'dialects'. (2) We're also finally starting to take a more holistic look at ape communication. For years researchers looked at specific signal types in isolation; that makes sense at the start – you find one thread and you start to pick at it and follow it along. But apes – whether they're chimps or people – communicate using the full range of signals available to them, sometimes all at the same time. To better understand what information is being exchanged we need to step back and look at the whole picture.

Outside of work when I can get out of town I'll go up to the mountains – either climbing or for a scramble and a bivy. I live in a tiny cottage in a field in the middle of nowhere, so if the weather is bit too Scottish to get to the mountains or the beach then a decent cup of tea and a potter in the wood shed makes me pretty happy.

My Typical Day:

Up at 5; coffee; hike; listen for chimp calls as the sun comes up; find chimps; loose chimps; find chimps; sit in some ants; find chimps; walk home; emails/data/marking; bed!

Read more

I spend about 50% of my time in St Andrews at the University and about 50% of my time away, mostly in the field. My field routine is an early 5am start (not my favourite thing) and then a walk for an hour or so out to the Waibira group. I love the walk in in the dark while the forest wakes up. We listen for the morning pant-hoots on the way in, Waibira are still not completely habituated and it can take us a little time to find them in the morning. We try to choose one individual and follow them for the day – it gives us a better idea of exactly what chimp behaviour looks like. Some days that means you sit under a nest in the rain while the furry little *subjects* sleep an extra 3 hours; some days you hit the ground running and never stop. Outside of the forest there is a lot of video coding, data processing, project admin and supervision, and email answering. It's easy to let this slip and the 'data mountain of guilt' pile up! In St Andrews I teach classes for about 10weeks a year but I'll also usually be working with PhD students, supervising undergrad (4-5) and MSc projects (2-3), and acting as a tutor for other groups. We're a pretty small collegiate University so we'll often also guest lecture for other schools like Biology or Philosophy. I'm on the School ethics committee and tend to get most of the animal proposals to review. Oh, and then there's the paper and grant writing and reviewing, and trying to get the finance department to accept the 'receipts' scribbled in a notebook from the last field-season.
My Interview

How would you describe yourself in 3 words?

primatologist, chimp-stalker, climber

What did you want to be after you left school?

Particle physicist (took a bit of a different path in the end!)

Were you ever in trouble at school?

Occasionally
---
---
---