Profile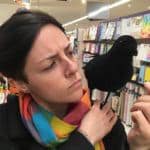 Carolyn McGettigan
My CV
Education:

Foyle and Londonderry College (1992-1999); Clare College, University of Cambridge (1999-2003); University College London (2004-2007)

Qualifications:

BA in Natural Sciences (Experimental Psychology); PhD in Human Communication Science

Work History:

University of Cambridge (2003-2004); University College London (2008-2012); Royal Holloway, University of London (2012-now)

Current Job:
About Me:

I'm a Professor in the Department of Psychology at Royal Holloway, University of London.

Read more

I use an MRI scanner to find out what's going on inside people's brains when they listen to voices and when they user their own voice. I've even looked inside my own brain.

Human communication is an amazing process. We chat to each other all the time – on the phone, in noisy rooms, with all sorts of different accents and voices. Most of the time we can understand what is being said, and make ourselves understood, pretty easily. My work looks at how this happens, and how the brain controls it. Apart from being fascinating in its own right to find out how the brain works, my research is very relevant for when things go wrong – for example, if someone has a stroke or head injury and it affects their ability to speak.

 Speech is a really complex sound – I've made a picture (called a spectrogram) of me saying 'I'm a scientist!' to show you that the sounds in speech aren't like words on a page, with helpful spaces to show you where one ends and the next begins. The shading shows where the energy is, in frequency and time. Even a tiny sound in speech, like the 's' at the start of 'scientist', can sound very different if it's spoken by a man or a woman, or if it's at the start of 'supermarket' rather than 'scientist', but we as listeners still recognise it as an 's'. That's quite cool.

My experiments look at all sorts of aspects of speech perception (listening) and production (speaking). I'm interested in how people cope when speech is difficult to understand. I've got different ways of distorting speech and then seeing which bits of the brain are important in trying to understand what is being said and learning to get better at it. Can you understand this sentence? That's how things might sound to a person who has received a special type of hearing aid called a cochlear implant. In future research I'll be looking to see what happens in the brains of people who use these implants, to see how people who aren't used to hearing sound respond to speech and learn to understand it.

 One of the most fun experiments I've done is looking at how the brain controls our speech when we try to sound like someone else. We got people to do impressions and accents in the brain scanner. We compared their brain activity for these with when they spoke normally to find out which bits got more active when they had to change their voice – you can see those bits coloured in purple on the picture. It's important to find out more about how our brain controls how we speak – people who have a brain injury can find speech very difficult and our results are relevant for therapy to help people learn to speak again.

 That's just some of the research I do. I really love my job because I love sounds, and speaking! London is a fantastic place to live and the campus at Royal Holloway is truly beautiful. We also get to travel for conferences in the US and other parts of Europe, which is a great way to discover the world, and share our research with other scientists. Anyway, please write to me and ask me more about speech, sounds, scanners, brains… I'm excited to hear your questions and ideas.

My Typical Day:

I typically sit in my office, writing papers, analysing data or having meetings with students and other researchers in my lab.

Read more

 The MRI scanner is basically a huge magnet. It's sort of doughnut-shaped and we get people to lie in the doughnut-hole (!) so we can record data from their brains. The magnet is really, really strong (more than 30,000 times the Earth's magnetic field!) so we can't let anyone near it with metal on – or in! – their body. But once people are in the scanner it can be quite relaxing. We run our experiments there and then analyse the data later.

My office days are really varied. I write research papers, plan new experiments, and meet with my students and members of my lab to talk about their work. However, as a Professor I also have other responsibilties – I give lectures, and contribute to the running of the Psychology department (for example, organising and hosting Open Days for applicants). Most of the time, I get to decide how to fill my time, which is great. I listen to music (including Eurovision songs, of course!) while I work, and drink a lot of coffee. It's lovely, really.
My Interview

How would you describe yourself in 3 words?

Genuine Eurovision Fan

What did you want to be after you left school?

When I was at secondary school I wanted to be a forensic pathologist (like on "Silent Witness")… but I really didn't want to train as a doctor. When I got to A Levels, I found that I absolutely loved Chemistry, and set my sights upon that for university. Then somewhere along the line at Cambridge I dropped Chemistry and ended up doing Psychology.

Were you ever in trouble at school?

Honestly, I was really well-behaved at school. I can't even think of something to make up. Sorry!

Who is your favourite singer or band?

Trying to sound interesting: <a href='http://www.blonde-redhead.com/music.html'>Blonde Redhead</a>. Not Trying: Girls Aloud

Tell us a joke.

Two snowmen are standing in a field. One says to the other: "Can you smell carrots?"
---
---
---