Profile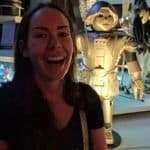 Catriona Silvey
My CV
Education:

Repton School, Derbyshire (1998-2002); Corpus Christi College, University of Cambridge (2003-2006); University of Chicago (2006-2007); University of Edinburgh (2010-2014)

Qualifications:

A-levels in English, French, Latin, and Maths; AS level Further Maths; BA (Hons) English; MA Humanities; MSc Evolution of Language & Cognition; PhD Linguistics

Work History:

Between my undergrad and my PhD I worked for a while in open-access scientific journal publishing with PLOS (the Public Library of Science). I've also been a sub-sub-librarian and possibly the world's worst waitress.

Current Job:

Postdoctoral Research Fellow
About Me:

I'm interested in a lot of things, but especially languages, music, and fantasy & science fiction.

Read more

I'm originally from Scotland; I grew up there and in Derbyshire. When I'm not doing research, I write fantasy and science fiction. I also love travelling, learning languages, and playing musical instruments badly.

Read more

I work in language evolution and language development. That means I'm interested in where language comes from, how children learn the language around them, and what these two areas of research can tell us about each other. For the language evolution part, I make up fake languages (we usually call them 'alien' languages to make it more fun), teach them to people, and see how they learn them and use them to communicate. For the language development part, I study the kinds of things children say when they're just learning to talk (which can be fun, as they don't always make much sense at that stage!)

My Typical Day:

Designing and running experiments, analysing data, writing up my results, meeting with colleagues to talk about their work.

Read more

Most of my day is spent working in my office, either planning an idea for a new experiment, doing statistical analyses of data I've already collected, or writing papers based on the results. If I'm running an experiment, I'll be sitting outside the booth where my participants are, attempting to do work but spending most of the time worrying the experiment's stopped working.
My Interview

How would you describe yourself in 3 words?

Almost always confused

What did you want to be after you left school?

A children's book author.

Were you ever in trouble at school?

Honestly no - my parents were both teachers, so I would never have heard the end of it!

Who is your favourite singer or band?

Tori Amos

Tell us a joke.

Two muffins are baking in an oven. One says, "Wow, it's hot in here!" The other one says, "AAAH!! A talking muffin!!"
---
---
---